Welcome to the Brenaissance — or Brendanaissance, whatever you want to call it!
Brendan Fraser is enjoying a long-overdue comeback thanks to his gut-wrenching performance in The Whale.
Though he's most famous for goofy roles and being beautiful in 1990s rom-coms, Fraser has an exceptional range that often gets overlooked, particularly as he has matured and taken on a wider variety of roles in diverse projects.
Fraser has starred alongside some cinematic heavy hitters and taken all sorts of risks — indie films, big-budget studio flicks, and television — he's done it all.
Here are some examples of his best work, including some of his biggest hits and some underrated gems.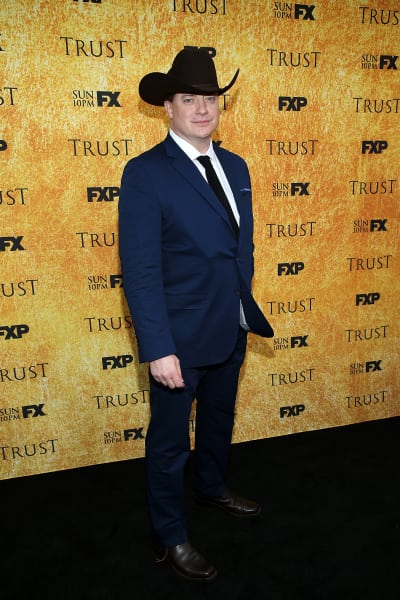 The Mummy (1999)
Fraser channels Errol Flynn and Indiana Jones as Rick O'Connell in The Mummy, his most commercially successful and enduring hit.
It's got everything — thrills, romance, action, horror. Fraser and co-star Rachel Weisz have terrific chemistry as they uncover the curse of Imhotep.
Though the sequels may sour the original's legacy somewhat, The Mummy solidified Fraser as a bonafide action-adventure star.
Bedazzled (2000)
Elliot Richards gets seven wishes from the Devil herself (an amped-up Elizabeth Hurley). However, they don't work out how he hopes…
Directed by Harold Ramis, the late king of magical realist comedies, Bedazzled is one of Fraser's strongest and most entertaining performances, showcasing the scope of his versatility — the dolphin song! RAUUUULL! The Sid and Nancy sequence! He covers so much ground.
It's got tons of laughs as well as a surprisingly profound look at morality and selflessness. The bittersweet ending sets it apart from so many other rom-coms, but it feels right. Revisit this one — you'll be glad you did!
Encino Man (1992)
The film itself is very Pauly Shore-heavy (the early 1990s were a strange time), but Encino Man really put Fraser on the map as thawed Neanderthal turn high school kid "Link."
Fraser remains unquestionably charismatic in a primarily physical comedic performance, unafraid of looking absolutely ridiculous.
The film hasn't aged amazingly, but if you're looking for a nostalgic trip to the 90s with a slightly demented high school comedy, Encino Man has you covered. (It also features a brief appearance from 2022's other "resurgent" star, Ke Huy Quan).
School Ties (1992)
Fraser plays David Greene, a star quarterback who gets a scholarship to a Catholic boarding school, only to be met with hostility and abuse once his classmates realize he's Jewish.
Fraser shows strength, sweetness, and vulnerability as David and more than holds his own within the all-star cast (including young Chris O'Donnell, Matt Damon, Ben Affleck, Cole Hauser, and Anthony Rapp in some of their first big cinematic roles).
It's a testament to Fraser's underrated range that both School Ties and Encino Man were released in the same year.
Blast From The Past (1999)
In yet another fantasy rom-com, Fraser is perfect as Adam, capitalizing on his wholesome appeal as a man raised with 1950s-style morals due to an admittedly disturbing premise (being raised in a bomb shelter his entire life, hiding from a war that never happened).
Adam is Brendan Fraser at his sweetest. He and Alicia Silverstone play off each other well, with Silverstone as the more world-wise Eve.
Fraser is always effortlessly believable portraying innocent, "aw-shucks" sincerity. It's also got fun supporting turns from Christopher Walken, Sissy Spacek, and Dave Foley.
George Of The Jungle (1997)
Fraser is the prince of of fish-out-of water comedies (see Blast From The Past and Encino Man).
George is not just a cartoon-made-flesh but a kind and (admittedly) gorgeous man who works very hard to communicate and cares about the woman he loves, Ursula (Leslie Mann).
Much has been made about how George Of The Jungle is one of the few films presented in the female gaze. George may be a jungle man, and, yes, it's silly, slapstick Disney fare, but Fraser imbues him with real tenderness while still managing to poke fun at his heartthrob status.
Still Breathing (1998)
For straight-up romance, look no further than Fraser as Fletcher, the eccentric street performer who finds the literal woman of his dreams.
Fraser is at his swooniest here, whole-hearted and earnest as always, in love with a complicated woman (Joanna Going). It proves that for all the plot twists and fantasy in some of his other roles, he can still carry a stripped-down, simple love story.
Still Breathing is a forgotten little gem to enjoy if you feel like getting whisked away!
Gods and Monsters (1998)
Fraser holds his own beside the fantastic Sir Ian McKellen, playing Clayton Boon, the heterosexual gardener to McKellen's openly gay James Whale (director of Frankenstein).
The two share a touching friendship that, despite their differences, never feels forced.
Gods and Monsters is an example of how generous Fraser is as a performer, allowing his co-stars to have their moments while remaining a stoic, gentle presence.
Mrs. Winterbourne (1996)
In this madcap romantic comedy, Fraser plays brothers Bill and Hugh Winterbourne while Ricki Lake grapples with a mistaken identity situation.
Fraser is the epitome of a dapper, dignified gentleman. Shirley MacLaine is also great as his mom!
Mrs. Winterbourne didn't do so well at the box office, but it's such a fun fantasy with a bit of a dark edge. It's totally worth revisiting — especially for that tango scene!!
Fraser has done his fair share of voice work, and his role on Titans led to him reviving the character of Cliff Steele/Robotman on Doom Patrol.
One of the show's funniest moments came in Doom Patrol Season 3 Episode 8 when Fraser played Cliff in human form, only to confront himself in robot form (it makes sense in context, honestly).
As usual, Fraser finds a way to make his characters feel deeply human in an extraordinary, fantastical world.
The Air I Breathe (2017)
Lesser known that many of Fraser's other films, Jieho Lee's indie debut The Air I Breathe is a crime drama with interlocking plots and a fantastic cast that include Forest Whitaker, Andy Garcia, and Sarah Michelle Gellar.
Fraser's character has a special gift, and he handles some of the more implausible parts well. His whole arc is riveting and poetic.
The film doesn't always work, but you have to admire its ambition.
Pawn Shop Chronicles (2013)
Pawn Shop Chronicles is a bizarre, meth-addled roller coaster of a movie.
Fraser's Ricky Baldoski is the Elvis impersonator to end them all. It's got a great ensemble cast, and it's ultra-violent, but everyone is all in. 
Fraser, in particular, is fully committed in every scene, particularly during his performance of the King's rendition of "Amazing Grace."
Airheads (1994)
Let's be real, Airheads is not Fraser's best film by a long shot, but when have you ever seen a more random motley crew than Brendan Fraser, Steve Buscemi, and Adam Sandler?
Fraser nails the wannabe rock star attitude of Chazz. He's got the swagger, the ego, and the dedication, even if he's in an increasingly ridiculous situation.
Airheads is fun as a kooky nostalgia trip and for the three leads' performances. It's also got a terrific supporting cast of familiar faces, including Michael McKean, Ernie Hudson, and Chris Farley!
Saturday Night Live (1997 & 1999)
Brendan Fraser hosted Saturday Night Live on two occasions, in 1997 and 1999. He had already starred in films with Adam Sandler and Chris Farley (see Airheads), and he was most famous as a comedic actor at that point, so it was a natural fit.
His monologues were charming, he sang with Will Ferrell (can we get Fraser in a proper musical soon, please?), and fit right in with the Delicious Dish gals as Cameron Ross, squash expert.
He even gets bonus points for professionalism, staying in character during the Xena sketch's wig malfunction!
"Frendan Braser"'s stints on SNL showed not just what a good sport he can be but how he will always fully commit to the bit.
The Quiet American (2002)
In a love triangle set against the backdrop of the Vietnam War, Fraser plays the titular American Alden Pyle, who falls in love with a Vietnamese woman (played by Đỗ Thị Hải Yến).
Michael Caine got well-deserved accolades for this film, but Fraser makes the most of his "quiet" role, staying subtle and strong. It's a romantic lead but with complexity, nuance, and tragedy.
This is an intelligent, thoughtful side of Fraser that he does so well but often gets overlooked.
Fraser has had a string of great small-screen performances, and one where he truly shines is as "fixer" Fletcher Chace in Trust, a well-crafted crime drama about the Getty family from FX.
Fraser works alongside an amazing cast (Donald Sutherland, Hilary Swank), and a strong creative team led by Danny Boyle.
Fraser's Fletcher often speaks directly to the camera, inviting the audience in, which might not work as well if he wasn't such an affable performer.
Chace was a totally new type of role for Fraser, wholly different from anything else we'd seen him do, and it heralded all the great work that would follow.
The Whale (2022)
Charlie has been Fraser's greatest triumph and has already garnered many accolades and awards.
The film itself has been divisive in how it portrays the morbidly obese, but most people agree that Fraser has done something truly special here.
Fraser's gift has always been to fully embrace the humanity of the characters he plays and treat them empathetically, and his Charlie exemplifies this.
Fraser's generosity of spirit shines through in everything he does, whether on or off-screen.
He's the ultimate straight man to comedic scene-stealers, but he always knows how to get laughs and make it look easy.
Fraser is not afraid to work with the best in the business and share the spotlight.
What's your favorite Brendan Fraser performance? Have we missed any great ones? Let us know in the comments!
Mary Littlejohn is a staff writer for TV Fanatic. Follow her on Twitter.