Lyle Lovett's return might be good news for fans, but not so much for the Reagans.
Whenever his character shows up, Danny has his hands full. He has to stop Gates from engaging in cowboy justice instead of following New York rules.
And on Blue Bloods Season 13 Episode 15, Gates' newest mission could paint a target on every Reagan's back.
Gates' original appearance made sense. He and Danny had to work together to find the Lone Star Killer, who hailed from Texas and was attacking people in New York. Similarly, he and Danny had to work together to catch a killer on Blue Bloods Season 12 Episode 10.
This time, Danny will help Gates transport a dangerous drug kingpin from Texas to New York to face arraignment. That seems odd; why is Danny needed for this task?
This may be connected to a case Danny and Baez worked on; sometimes, they investigate murders related to the drug trade or organized crime.
Otherwise, it seems random. There must be US Marshals or others more qualified to transport prisoners across state lines to face trial in New York!
Regardless of how much sense this makes — and it will probably be clearer on the episode than it is in spoilers — this mission'll be dangerous for Danny and the other Reagans.
No one should be surprised by this. Drug kingpins don't generally go quietly into the jail system. They try to bully, intimidate, and coerce their way back into freedom.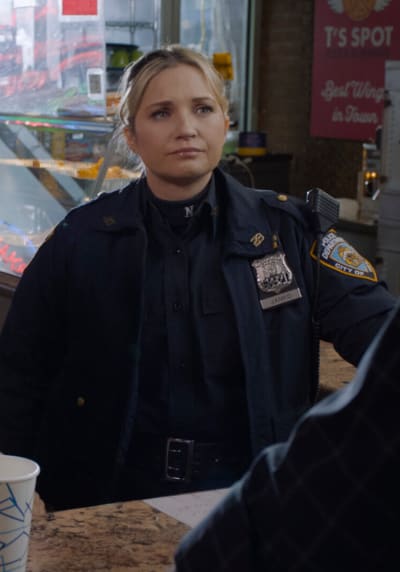 The easiest way to do that is to threaten Danny's family. Most Reagans aren't easy to intimidate; however, Henry and Sean are often seen as more vulnerable.
The kingpin might think he can get his way by threatening one or both. It would be idiotic to believe he can get away with it, but that won't stop him!
Frank doesn't play around when it comes to his family — anyone remember what happened when Nicky was kidnapped? But the cartel leader is probably cocky and desperate enough to try it.
Danny'll have to worry about that while also keeping Gates in check. This'll lead to a ton of intense drama, though Gates/Danny scenes are also among the series' most comedic.
The two men hail from entirely different cultures. Gates' style of justice would fit in on Yellowstone but isn't acceptable in New York, but that never stops him from trying to do things his way.
Danny typically works with Gates when Baez isn't available. Baez has no on-screen reason to be MIA this time; she hasn't been injured on the job. But it's easy enough to write in her taking some personal leave or vacation days to bond with her baby, so that's likely what'll happen.
More's the pity. I'd love Baez's reaction to Gates. She often has to rein Danny in — how would she deal with Gates' behavior?
In non-Gates news, Eddie has a compelling case coming up.
Spoilers say Eddie will team up with an unlikely person to solve a cold-case murder.
Eddie's passionate about justice. She doesn't get along with the type of cop who only wants to put in their hours and go home.
The person she turns to is Cora Felton, last seen on  Blue Bloods Season 12 Episode 9. Cora and Eddie butted heads after Eddie realized Cora was pregnant; Cora thought Eddie betrayed this confidence when her supervisor put her on desk duty.
Although that issue was resolved by the end of the hour, Cora and Eddie haven't crossed paths since and might not be thrilled to work together again.
It's been over a year; Cora should have had her baby by now. And since no one's heard from her, there's no telling what she's been up to.
She might have left the force to spend more time with her child or take a promotion. She might also be reluctant to reopen a case she'd failed to solve the first time, especially if Eddie's involved.
Eddie probably won't get much support from Jamie. He's got problems of his own, as he wants to go undercover, and Frank won't let him.
Jamie's new job requires a lot of undercover work; since when is it up to Frank who goes undercover?
Spoilers say that Jamie and Frank butt heads when Frank denies his request for the assignment. This feels like it's happening out of the blue and like a conflict of interest.
How can Frank be objective about sending his children undercover, especially after Joe's death?
Finally, Erin gets a big case that puts her in the spotlight!
Although she's gone through the motions of conducting a campaign, I'll still be surprised if she officially announces. She enjoys investigative work too much.
She and Anthony get unwanted attention when they go after a basketball player accused of committing assault.
Since the player is a star athlete, Erin will be pressured to look the other way. This'll be her first test as a potential candidate — will she put potential bad press ahead of justice?
It doesn't seem in her nature to do that, but Bobby and others involved in her campaign may think it's a good idea. Erin'll have to get used to standing up to her advisors like her father does with his if she hopes to be a good DA.
What do you think, Blue Bloods fanatics?
Hit the big, blue SHOW COMMENTS buttons and let us know!
Don't forget you can watch Blue Bloods online while waiting for the next new episode to air.
Blue Bloods airs on CBS on Fridays at 10 PM EST / PST.
Jack Ori is a senior staff writer for TV Fanatic. His debut young adult novel, Reinventing Hannah, is available on Amazon. Follow him on Twitter.