This Sunday, Fatal Attraction returns.
The famed IP is getting the series treatment, which allows for a much deeper dive into the story and its characters.
Like you, we have IP refreshing and reboot fatigue, but we've seen Fatal Attraction Season 1 in its entirety and believe that further exploration has merits.
Dan Gallagher (Joshua Jackson) is an attorney on the cusp of a significant promotion. He's happily married to Beth (Amanda Peet), and the couple has a lovely daughter, Ellen.
But as bright as Dan's life seems on the outside, he's riddled with self-doubt when an opportunity slips through his fingers, and he begins looking outside of his family for validation.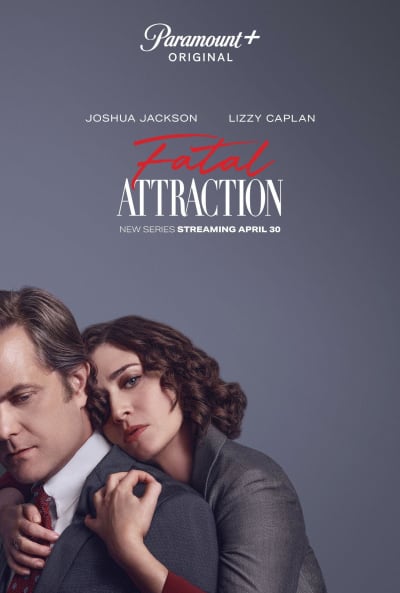 Dan finds that validation in Alex Forrest (Lizzy Caplan), a coworker with an understanding of his professional pressures because she faces the same.
Dan and Alex have a one-weekend affair that scratches an itch for both of them. Dan feels seen, and Alex feels connected, something she desperately needs in a new town with nobody to call her friend.
Their views on the affair differ wildly, and the resulting aftermath finds Alex dead, and Dan jailed for 15 years for her murder.
Yes, this Fatal attraction not only holds someone accountable for her death, but it also allows Alex as a character to breathe enough so that she's not a one-dimensional villain.
In giving Alex layers, Dan gets them as well.
He's no hero, but if he's innocent as he claims, then he's no villain, either.
We had the opportunity to chat with the cast and creatives behind the series, and Jackson and Caplan explained how this deeper exploration of their characters works to their benefit and ours as viewers.
They also discuss why the updated material works, especially in 2023, when characters are no longer painted with one brush, with both men and women looked at more closely with regard to affairs and infidelity.
By taking the material into the future, the ramifications of the affair, Alex's death, and any responsibility Dan had for it can be explored more fully by how it affects his friends and family.
Beth is more than a scared woman who stands by her man even after he admits to an affair, and we also see how his daughter Ellen, only a child at the time, is affected through early adulthood.
Peet explained why now is the right time for this new exploration and talks about how the original Alex, Glenn Close, wanted more for her character, which she'll now get to see.
Peet and Jirrels both talked about where their characters are 15 years after the events take place and why it benefits the story.
Fatal Attraction also fleshes out Dan and Beth's life with friends and coworkers that help define them.
Toby Huss is Dan's friend and coworker, Mike. Mike stands by Dan when he most needs a friend and champions him over a decade later as Dan integrates back into society and hopes to clear his tarnished reputation. Huss has a habit of elevating roles, and it's no different here.
Reno Wilson plays Earl, an investigator who didn't have a sterling relationship with Dan but to whom Mike turns when he works with his friend to shed new light on the murder that sent him away 15 years prior.
Brian Goodman is Gallagher family friend Arthur, whose relationship with Beth helps get her through the most trying time of her life in the aftermath of Alex's murder and Dan's incarceration.
Here, they give more information on their characters and what to expect from their performances.
Alexandra Cunningham (Writer/Showrunner/Executive Producer), Silver Tree (Executive Producer / Director), and Kevin J. Hynes (Executive Producer) are responsible for helping to reframe the film and bring it to a modern setting.
Cunningham shares with us how she chose the direction of the series, including taking the story 15 years into the future, especially as it pertains to Ellen, who is the most malleable, and how what transpired defines her as a young adult.
Tree discusses how she allowed scripts to inform her direction of the series and how she knew when to pay homage to the film, and when to allow the series to stand on its own.
And finally, Hynes laughingly shares his message for people with IP fatigue. Take a look.
By expanding well beyond the event itself, Fatal Attraction stands apart from the film.
Instead of a flat-out thriller with a healthy dose of horror on the side, the series brings Dan and Alex's story within reach as a cautionary tale that actions, even passionate affairs between consenting adults, can have far-reaching consequences.
Fatal Attractions premieres on Paramount+ on Sunday, April 30, with four (4!!) episodes, and we'll be reviewing the series weekly, so be sure to return for all the fun!
Carissa Pavlica is the managing editor and a staff writer and critic for TV Fanatic. She's a member of the Critic's Choice Association, enjoys mentoring writers, conversing with cats, and passionately discussing the nuances of television and film with anyone who will listen. Follow her on Twitter and email her here at TV Fanatic.