[ad_1]

One of Us Is Lying ★★★
Stan*
Imagine Gossip Girl crashing into The Breakfast Club and then turning into a paranoid teenage murder mystery. Even this series' actual gossip guy, Simon Kelleher (Mark McKenna), knows what's going on at his high school. "This place is such a cliche," he says. "It's like everyone is here to audition for a reboot of a John Hughes movie."
And you'd better believe that Simon has those '80s pastels and surly, sensitive antihero looks going on something serious. But when Simon teases a bunch of upcoming reveals on his scurrilous gossip blog, something very bad happens – and a bunch of his classmates might have had motives to do it. Did the straight-A student cheat on her chemistry exam? Did the cheerleader cheat on her boyfriend? Has the school's sensitive drug dealer (emerging Australian heartthrob Cooper van Grootel) done something that could send him to jail?
The story, based on the wildly popular young-adult novel by Karen M. McManus, deftly tweaks its balance of suspicions to keep things interesting, but it's McKenna (who was so good in Amazon Prime Video's Wayne) and Van Grootel who really pull focus.
Hating Peter Tatchell
Netflix
The amount of violence and hatred that Australian human rights campaigner Peter Tatchell endured was brutal – even before he left for Britain in 1971 to embark upon half a century of activism on behalf of LGBT people and other groups. This affecting documentary by Australian filmmaker Christopher Amos (executive-produced by Elton John) provides a compelling chronology and human portrait while giving some of Tatchell's critics opportunity to air their criticisms and Tatchell the chance to address them. Highly recommended.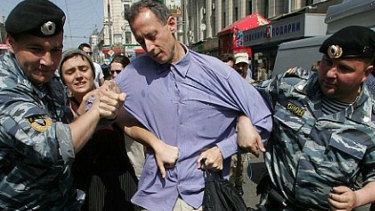 Days of Our Lives: Beyond Salem
Binge
How do you get into a soap as old as Days of Our Lives (est. 1965)? Start with this mad miniseries, which has Days stars old and new chasing stolen jewels across the stock-footage capitals of Miami, Zurich, New Orleans and, er, Phoenix, Arizona.
The highlight of the early episodes is Lisa Rinner wearing a tiara because she's a secret agent undercover posing as European royalty trying to get a gander at one of the jewels, and then dancing a spontaneous public tango.
Rhys Darby: Big in Japan
Paramount+
Yes, it's another comedian off to do another travel series in Japan, but – hey! – it's Rhys Darby, that loveable Kiwi from Flight of the Conchords and the Jumanji movies. He doesn't seem immediately comfortable in the format, trying a little too hard for laughs when he could just soak things up.
But Japan isn't always a comfortable place – as Darby finds at an eerie hotel staffed entirely by robots. His observation on the wild popularity of mascot costumes as something you can hug in a no-hugging culture is poignant.
Loading
The Kill Point
Amazon Prime Video
The tragic death of Michael K. Williams has got people back into The Wire, Boardwalk Empire and Hap and Leonard (all of which are on Binge and Foxtel). Completists can also check out this smartly plotted thriller series, which slightly wastes Williams as a philosophy-spouting sniper taking part in the police siege of a bank in Philadelphia. Live-wire John Leguizamo is the Iraq War veteran turned bank robber taking a bunch of hostages, and Donnie Wahlberg the police negotiator trying to get them out.
*Stan is owned by Nine, the owner of this masthead.
[ad_2]

Read More:Isaac Asimov's Foundation is worth the 80-year wait for a TV series