[ad_1]


September 3, 2021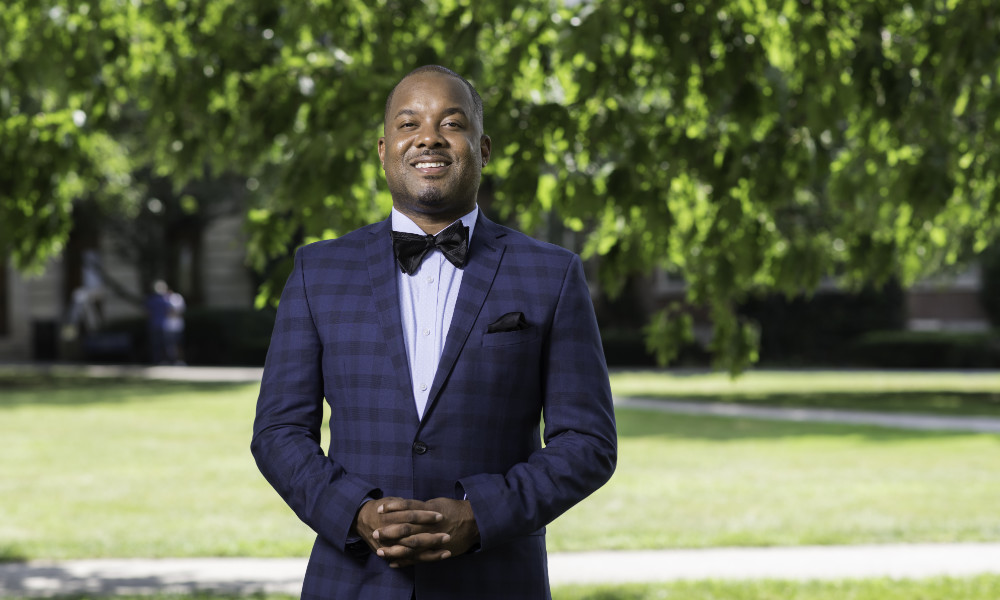 The accomplished scholar discusses the importance of Black studies as well as his plans to expand the scope of the institute.
A former postdoctoral fellow at the Frederick Douglass Institute for African and African-American Studies (FDI) has returned to the University of Rochester 14 years later to lead the institute. Jeffrey McCune Jr., an award-winning scholar on issues of race, gender, and identity, started his new role as director on June 1.
"We want a richly interdisciplinary Black studies program that not only deals with the everyday lives of Black people, but also thinks beyond the everyday," says McCune. "It needs to span Black cultural practices and communities and spaces."
McCune has a bachelor's degree in speech/theater and secondary education from Cornell College and a master's degree in communications studies from the University of Nebraska–Lincoln. He earned his PhD in performance studies, with a focus on African American and gender studies, from Northwestern University. Before coming to Rochester, he served eight years as associate professor of women, gender, and sexuality studies and of African and African American studies at Washington University in St. Louis. He's the author of Sexual Discretion: Black Masculinity and the Politics of Passing (University of Chicago Press, 2014).
At Washington University, McCune enjoyed a reputation as an engaging and stimulating professor. His sought-after course on Kanye West—"a case study for interrogating the interplay between fame, gender, sexuality, and race"—made a USA Today list of "11 college courses in pop culture we wish we could take" in 2017.
In addition, McCune claims status as a royal—in the world of karaoke.
You were a postdoctoral fellow at the Frederick Douglass Institute 14 years ago. What made you want to come back to Rochester?
When I came to the Frederick Douglass Institute in 2006, I fell in love with the community—the community at the University, but also the community beyond the campus. Yet the trajectory of my life seemed to be taking me elsewhere—from here to DC and to St. Louis, with no thought of returning to Rochester.
That was until a few folks from the faculty and administration asked if I would be interested in the directorship. I was convinced that there were enough resources to develop something both creative and state of the art. I was then able to convince myself and my family that this was the place to be.
What do you bring to FDI?
My first impulse is to say that I bring years of experience leading people, but also facilitating dialogue and critical conversation. I bring charisma and energy that can get people to believe that things are possible, even when they seem quite impossible.
The other thing that I bring is my community. I am deeply rooted in the field of Black studies with a wide network, from social scientists to humanists, as well as people in the medical and public health fields. Those broad connections allow me to situate the FDI as a resource engine and as part of a web. We'll be able to reach out and facilitate conversations in places where, historically, the FDI has not been involved. For instance, we're hosting a conference on September 24 and 25 called "We Have Nothing to Lose but Our Chains: Black Study and Its Futures." It will focus on the future of Black studies with people who work across its many areas.
You've returned to Rochester during the Black Lives Matter movement, when more white people are reading books about racism, as well as talking about racism and what it means to be Black in the United States. Does that create an opportunity for you at FDI?
Absolutely. My recruitment was a direct response to the current climate in the United States. The grotesque anti-Blackness and annihilation of Black life in this country has created a bitter feeling among many white folks who now realize the impact of slavery on their lives today; yet anti-Blackness is a white American tradition, which so many still live and breathe with ease.
That's why, for me, having to be positioned in a leadership role where I will facilitate conversations on this campus and in the broader community is, quite frankly, a divine role. But it's also one that comes with great pressure, because we are on the precipice of a changing cultural community.
The frequency of Black death—from state-sanctioned police violence to COVID to HIV/AIDS—is a product of gross inattention to Black life and Black health. And I do believe that the consciousness and awareness of Black death creates a real attention to Black life.
This is especially important as we discuss the need to expand Black faculty and increase the number of Black and Brown students at Rochester. It's important when we make arguments for why the University needs to be more engaged—beyond scientific research or medical treatments—with Black communities. Now no one can ask if inequality is real. We know it's real. The FDI directorship is an opportunity to actually affect change within the institution as well as in the broader Rochester Black community.
Tell us about how you see FDI's mission.
The institute is named after Frederick Douglass, who was one of the foremost abolitionists and believers in fighting against Black "unfreedom." The institute began in 1986 as a student-organized commitment to the study of Black life and the study of racial inequality.
The commitment of the FDI, though, has been not only to do that work, but also to do it across the diaspora, so it's not situated just within a US-based framework. We cover a span of geographies as it relates to Black life and culture. What constitutes Blackness? How do we understand Blackness worldwide, and not just in the US? How is it that Black people live in the Caribbean, in Europe, or in Africa? How do we understand and discuss the connections, as well as the differences and the distinctions, among these various geographies, histories, and peoples?
At present, the FDI functions as a resource for conversations on race. But our aspiration is to lead those conversations—in this particular community, but also globally—as both producers and distributors of knowledge.
What are your short- and long-term goals?
My short-term goal is to remind the University and the surrounding community of the value of this institute—its mission, its people, and its projects. I want to electrify the community with vigorous and robust programming involving top-notch scholars from around the world.
Also, within the next year, I want the FDI to become the Department of African and African American Studies. Right now, African American studies exists as a program at the University. I was hired to elevate the FDI to a full department, and I would like to have that done by August of next year.
Long term, though, I want us to be a place that has creative, cutting-edge scholars, who matriculate through the ranks at Rochester to become leaders in the field. And I want to help cultivate that talent and make sure that young scholars get the attention and the mentorship they deserve.
Finally, I want the FDI to be a space that is known for its creative and collaborative programming—and not just at the University. I'm talking about creating relationships with other institutions—peer institutions—as well as institutions that are not peers, such as historically Black colleges and…
[ad_2]

Read More:Jeffrey McCune Jr. returns to Rochester to lead Frederick Douglass Institute