[ad_1]

SNOHOMISH, Wash., September 15, 2021 – Billy McGary, 35, lost track of how many days he had been awake with no sleep. It was the middle of winter, and he had just been kicked out of the McDonald's bathroom where he passed out on the floor. He hadn't eaten in days but had no appetite, a symptom of the methamphetamines in his system. He had no idea where he was, watching the people he went to high school with pass by in their cars with their children in the backseat, as he picked up cigarette butts by the bus stop. 
When he began flailing uncontrollably, he knew it was time to take heroin to bring himself down. This was his average cocktail. He was his own pharmacist. 
"I could have died. When you're up for days with no sleep, haven't eaten, dehydrated, on meth, and you put heroin in your system, your heart could stop," McGary told the Lynnwood Times. 
The next thing McGary remembers was being awoken by Snohomish Mayor John Kartak beside the dumpster where he had passed out. 
Living in active addiction
McGary struggled with drugs and alcohol throughout his 20s. Although he grew up in a loving home, raised by his Aunt Norma and Uncle Allen, he always felt like he didn't belong in normal society. He struggled in school, had a hard time focusing, never felt goal-oriented, and never had an urge to get involved in extracurricular activities. 
"I was one of those kids that had so much potential but just didn't apply myself," McGary told the Lynnwood Times. "I wasn't completely goal-oriented, wasn't in high school sports, I kind of went to the beat of my own drum." 
McGary and his younger sister began living with their aunt and uncle at a young age because of their mother's increasing drug and alcohol problem. They attended church every Sunday at Central Christian and were very involved in their church community. 
"My uncle and aunt did their best to raise me with proper values," McGary said. 
Although his uncle and aunt set a loving environment free from the influences of drugs, McGary's mother's addiction would soon catch up with him hereditarily. He began hanging out at the skate park where it was easy to find prescription pills like Percocet and Oxycontin and before he knew it, he advanced to heroin and meth. At this point, McGary's life began to spin out of control. 
After driving McGary to rehab for the fourth time, his uncle turned toward him and said, "You know what? I can't deal with this anymore. I'm leaving this in God's hands." 
"Nobody is equipped to deal with drug addiction. You can't make someone get clean who doesn't want to get clean," McGary said. 
McGary began living with his grandmother in Marysville but would soon be kicked out after getting loaded in her house and walking around in the middle of the night for nights on end. She gave him 20 minutes to pack his things. He continued to couch surf at friends' houses until he had exhausted all of his options and fell into homelessness at the age of 27. It was then when he wondered if he struggled with addiction. 
"Hitting rock bottom can be different for many people, but mine was hitting rock bottom for the 8th or 9th time," McGary told the Lynnwood Times. 
Hitting rock bottom
McGary began to increase his methamphetamine use as a survival tactic while living on the streets. The drug would raise his core temperature, suppress his appetite so he wouldn't have to look for food, and kept him awake and busy so he didn't have to worry about being attacked or killed.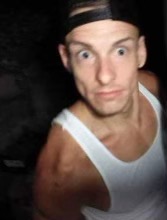 "I've seen it many times. People get drunk and just take a bike frame to a person sleeping [on the street]," McGary said. "You can get killed just by being in the wrong area when you're homeless." 
McGary's weeklong meth and heroin binges, dehydration, malnutrition, and full weeks of no sleep led to psychosis, delusions, hallucinations, and lead to confusion about where he was at any given time. Despite these issues, he never got into thievery or home invasion to fuel his habit. 
Although McGary knew of many shelters around the Everett area where he found himself most of the time, many homeless would be denied entry if they were suspected of drug use. In the rare instances in which he was allowed entry, he was given week-old, unsold Starbucks pastries for food. 
"It was like biting into a frosted crouton," McGary said. 
He was allowed to shower at the shelters but would feel uncomfortable stripping down in front of strangers, and his clothes would sometimes get stolen when he laid them down. 
McGary's drug binge lasted three years. 
A chance encounter leads to a path of redemption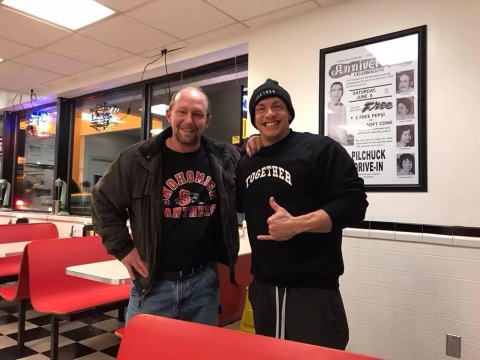 When City of Snohomish Mayor John Kartak awoke McGary outside a Snohomish dumpster that day, McGary was taken aback by how kind and calm he was. Before Kartak approached him, all of McGary's interactions with people on the street were either dangerous people looking to rob him or aggressive police officers telling him not to loiter. 
"He wasn't belittling or mean. He was the only one concerned about my safety. He made me feel significant, I didn't feel invisible anymore," McGary said. 
Mayor Kartak expressed concerns that McGary could get hit by a car and asked if he had a place to go. 
"I told him, 'I'm a father, and as far as I'm concerned, you could be one of my kids,'" Mayor Kartak told the Lynnwood Times. "I said, 'You got your whole life ahead of you, and it's heartbreaking to see someone throwing their life away.'"
Neither Mayor Kartak nor McGary would know this at the time, but there was some similarity between Billy and Kartak's own kids. The two would later learn that McGary attended Snohomish High School at the same time as his own children. 
Kartak walked McGary to the nearest cold weather shelter, talking like friends and offering to connect him with resources such as the Salvation Army. 
"He just wanted to help. . . . Who does that? I was just like, who is this guy? He still walked with me. He still treated me like a human being," McGary said. 
After that night, McGary decided to admit himself to rehab for the sixth and final time. 
"I admitted to myself that I had a heroin problem and I needed help. It took a long time, but I finally did, and I went to treatment," McGary said. 
Living in active recovery
When McGary celebrated his 30th birthday in rehab, he realized he was running out of time and needed to turn his life around. He found a sponsor and began actively involved in twelve-step programs such as Alcoholics Anonymous and Narcotics Anonymous. He moved to Yakima, Washington to separate himself from his past and began working for American Rocks, laying asphalt for highways. 
"The best advice I can give to someone struggling with this is to move away from your hometown and get linked up with a good support group," McGary told the Lynnwood Times. 
To this day, McGary is four years and five months sober, contributes to a 401k, and is working to buy his first house with his girlfriend. 
"It might sound cheesy, but not all angels have wings. It really shows what the world is going through, and I really appreciate what John did," McGary told the Lynnwood Times. "The joys of being clean and sober, having a life I've never had before, is the greatest thing in the world."
Mayor Kartak and McGary remain friends, communicating regularly over Facebook and getting together for a burger whenever McGary visits town. 
"Billy is such a heartwarming success story for our community," Mayor Kartak told the Lynnwood Times. "I think most people want to help, they just don't know what they can do."
Although Billy rekindled a…
[ad_2]

Read More:Rebuilding a Life: A journey from homelessness and drug abuse to self-redemption –